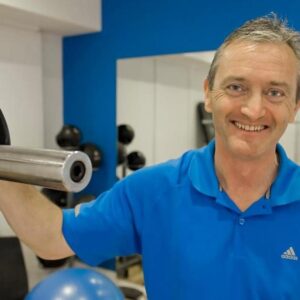 Rory O'Donoghue has over 30 years experience working with people helping them to achieve their goals in sport, health and fitness. His experience in injury recovery is second to none and has succeeded where other therapies and treatments have failed.
He also worked with many different sports personalities and organisations and is a qualified sports psychologist.
With 25 years experience in Sports Psychology, Personal Training &  Physical Therapy and having been involved in sport at highest level for about the same time. Rory has used his experience in Sports Psychology to good advantage.
Having played rugby for Leinster and St. Mary's RFC he holds All Ireland league, Irish Senior Cup medals and European Cup winners silver medal in hockey.
Mental and physical fitness are big factors in sport at the highest level. "I attribute my longevity in sport to my knowledge of the functioning of the body both psychologically and physically. I combine my hands-on knowledge and experience with some of the latest innovations in sports therapy".
 Electric acupuncture
 Needle-less acupuncture
 APS therapy – Action Potential Stimulation
25 years of experience specialising in Personal Training, Sports Injuries & Remedial Massage: I can offer clients an expert service in Personal Training, Sports Psychology and Remedial Sports Massage
 Winning Sports Psychology
 Personal Training – I.T.E.C qualified
 General Sports Massage
 Remedial Massage
 Recovery from Injury
 Back Pain
 Stress Management
Rory will tailor treatments to suit your specific requirements whether you are a weight loss client, elite athlete or recovering from injury.