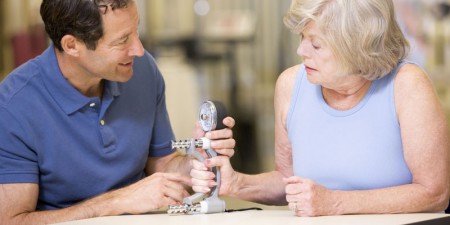 Geriatric physical therapy is primarily concerned with the remediation of impairments and disabilities and the promotion of mobility, functional ability, quality of life and movement potential through examination, evaluation, diagnosis and physical intervention. At O'Donoghue Clinic our aim is to provide best practice physical therapy therefore to promote optimal aging. O'Donoghue Clinic has over 30 years' experience treating the older population.
Generally geriatric physical therapy focuses on the patient's functional goals, promoting optimal health, restoring and aintaining the patient's highest level of function and independence. Physical therapy enables the older patient to be in control of their own decisions and at O'Donoghue Clinic we tailor our treatment to accommodate to suit the patients individual needs.
Geriatric Physical Therapy specializes in treating older individuals who present with musculosketal and neuromuscular conditions and dysfunctions. Similar to other specialized physical therapy areas, geriatric rehabilitation requires understanding of the patients individuality and his or hers developmental issues.
At O'Donoghue Clinic we provide a one stop shop for treating the older client, whether through the use of Electro – Acupuncture, Massage Therapy or our state of the art rehabilitation facility in ROD Fitness you can be assured of the best care we can provide.